Tips to Give Your Safety a Boost When Severe Weather Is in the Forecast | SERVPRO® of Garden Grove East/Anaheim Central
2/9/2021 (Permalink)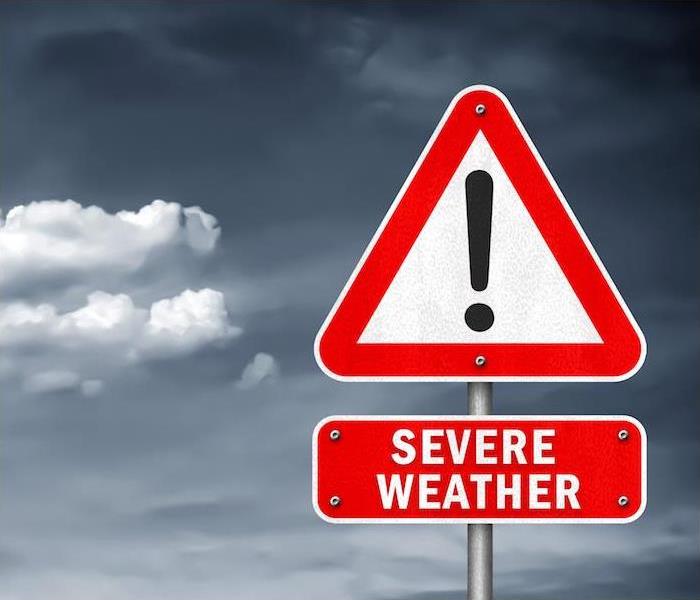 Though severe weather can be quite a regular occurrence in the spring and summer months, it is important to take every instance of it seriously. Any storm can cause damage to people and their property, leaving devastation and destruction in its wake.
Therefore, it is important to do what you are able to in advance in order to increase your personal safety in case of severe weather. Understanding what common weather alerts refer to, stocking your household with disaster supplies and having multiple ways to tune into emergency broadcasts can all give your storm safety a boost.
Understand What Common Weather Alerts Refer To
Having an understanding of severe weather watches and warnings will help you stay informed and know how to prepare when these alerts are dispatched. When a severe weather watch occurs, it means that severe weather is a possibility as a result of current weather readings, but no action (aside from attentiveness) is required. If a severe weather warning is issued, that means that severe weather has been picked up on radar and thus poses an imminent threat to the nearby area.
Stock Your Household With Disaster Supplies
When a severe weather warning is dispatched from local officials, you want to be sure that you stay put and stay safe until the storm passes. That is why you should always stock your household with disaster supplies so you can safely hold out until the worst of the weather passes. Nonperishable foods, adequate amounts of water, flashlights and batteries are all good things to include. Additionally, have a designated spot to head to during severe weather—preferably on the ground floor and away from any windows that could shatter during high winds.
Have Multiple Ways to Tune Into Emergency Broadcasts
While most of us rely on our smartphones to get information about the weather, this method can have some drawbacks and is not reliable during severe weather. Because cell reception can be spotty during severe storms and electricity is often unreliable, make sure you have multiple ways to get alerts that do not depend on the traditional power grid. A non-electric weather radio powered by batteries or manually is often a good solution for this.
If your home has been impacted by storm damage, we are here for you. You can contact us 24⁄7 to get a quick response to your home's damages.